If you haven't been keeping up with the Kardashians lately (heh') you may have missed the news that Kim Kardashian (West?) was in hot water with the U.S. Securities and Exchanges Commission.
EthereumMax
If you haven't heard of EthereumMax, it is/was touted as a yield-based token built on the Ethereum network, claiming to have more "real life" use cases than most cryptos. Pretty standard puffery for the marketing of a newly released project. Coins promising the world pump and dump every day, so what makes this story any different?
For one, the team behind EthereumMax hired multiple well-known celebrities to promote the coin to their millions of social media followers, including the one and only Kim Kardashian.
Right around the launch and subsequent all-time high price of EthereumMax on June 13, 2021, Miss Kardashian thumbed a tweet to her 200 million followers saying, "Are you guys into crypto? This is not financial advice but sharing what my friends told me about the ethereum max token!"
Speaking of all-time highs
You can get an idea of just how low Kim K (allegedly) thinks about her loyal followers if you turn the pages of history just a few short days after he Tweet was posted. A few days after her excited endoresement, the price of EthereumMax was down -90%. So, had you followed the advice of the second-eldgest Kardashian and bought some EthereumMax at the ATH, you would have lost 9/10ths of your investment in a matter of days.
The SEC was not amused.
Skip to October of 2022, and the SEC has officially dropped the hamer on Kim, to the tune of a 1.26 million fine. They (the SEC) claim that the queen of reality TV failed to disclose the 250k payment she received to promote the coin on Twitter.
Hashtag #AD is not enough
According to the SEC, adding #AD to your paid promotion Tweets is not enough. According to a summary of the press release on the SEC website — any celebrity who promotes a cryptocurrency asset, must disclose the nature, source, and amount of compensation they received to do so.
Money aside, Kardashian agreed to avoid any promoting of cryptocurrencies for the next three years.
A drop in the bucket
According to a Google search, Kim Kardashian's networth is upwards of 1.5 billion dollars. For someone with that kind of scratch, a million dollars may not seem like much, but it's just not a good look. Hopefully, this is a big enough blemish on the record of one of America's most influential people that will make her (and other social media "moguls") think twice before shilling any crypto again without full and proper disclosure.
The SEC has made it very clear that they are not going to put up with this kind of behavior in the space, and they have the power and the money to back up their words.
EthereumMax today
If you were wondering how "EMAX" is doing today, we will save you a google search. Just over a year after launch, the heavily-touted coin is down -99.3%, YIKES! Additionally, the comments on the Coinmarketcap page for this coin are just as reflective: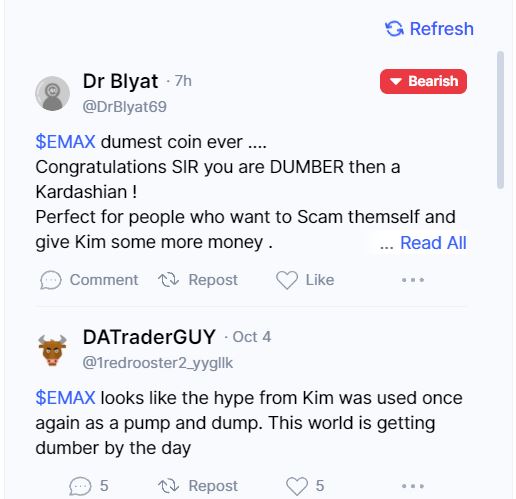 Sadly, this is a tale as old as time in the world of crypto. If something sounds too good to be true, it probably is. Don't be a sheep, do your own research… especially when staring down the advice of someone who is getting paid to tell you what to do.
As the crypto world continues to evolve and grow, we are sure to see many more stories like this one. The SEC is watching, and they are not afraid to take action when needed.
Okay, we've spent enough time talking about KK, time for a permanent commercial break. Out!