(Thumbnail courtesy of CC BY 2.0 license via Wikimedia commons, more at  https://commons.wikimedia.org/w/index.php?curid=33397092)
The Office was the number one most streamed show in the U.S. in 2020 and if you are one of the many fans of the show, you probably remember a hilarious scene in season three involving "Stanley Nickels" and "Schrute Bucks".
Episode 25 of season three, titled "The Job", involves a plot where Michael Scott believes he is to be promoted, thus leaving the branch as Regional Manager. His absence brings on the arrival of Dwight Schrute as regional manager and hilarity ensues, if only for a single episode.
The scene in question starts with newly appointed Regional Manager Dwight attempting to incentivize his employees to pay attention in his meeting by awarding them with paper certificates labeled "Schrute Bucks". These seemingly worthless pieces of paper with Dwight's face on it, mirrors what a teacher might give a kindergartener for paying attention in class.
Stanley (played by Leslie David Baker) answers one of Dwight's questions correctly and is awarded a Schrute Buck, but Stanley denies receipt and the scene finishes as such:
Dwight Schrute: Don't you wanna earn Schrute Bucks!?
Stanley: No. In fact, I'll give you a billion Stanley Nickels if you never talk to me again.
Dwight Schrute: What's the ratio of Stanley Nickels to Schrute Bucks?
Stanley: The same as the ratio of unicorns to leprechauns.
A passing line in a scene from nearly 15 years ago has spawned rumors of a potential cryptocurrency named Stanley Nickels, helmed by the Stanley actor himself, Leslie David Baker. Here is what we know so far about Stanley Nickels crypt: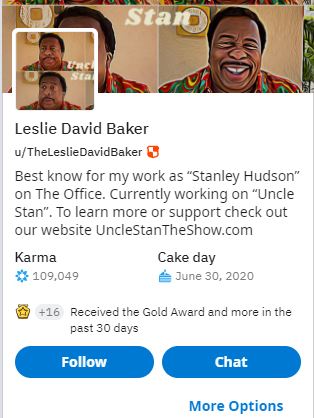 Leslie David Baker, the actor who plays Stanley on the office may not have a Twitter account, be he is quite the "Redditor", he's been on the platform since June of 2020 and has racked up quite the karma.
Leslie can be found answering questions on the Dunder Mifflin subreddit, drumming up support for his The Office spinoff concept and lately, discussing cryptocurrency.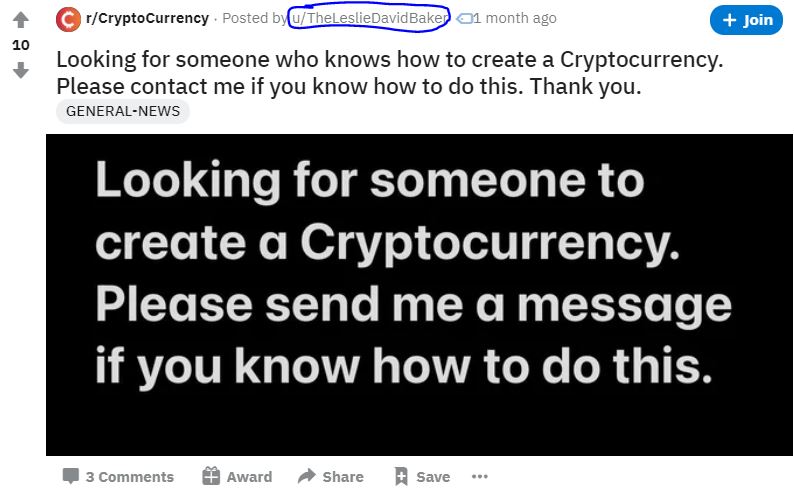 About a month from the date of this writing, Stanley posted an interested bread crumb on the Reddit subreddit, CryptoCurrency.
In this post he nonchalantly drops this nugget, "Looking for someone to create a Cryptocurrency. Please send me a message if your know to do this."
Although the message was quickly removed by the moderators, it is still publicly viewable and we are guessing Leslie got a massive amount of responses via private messages.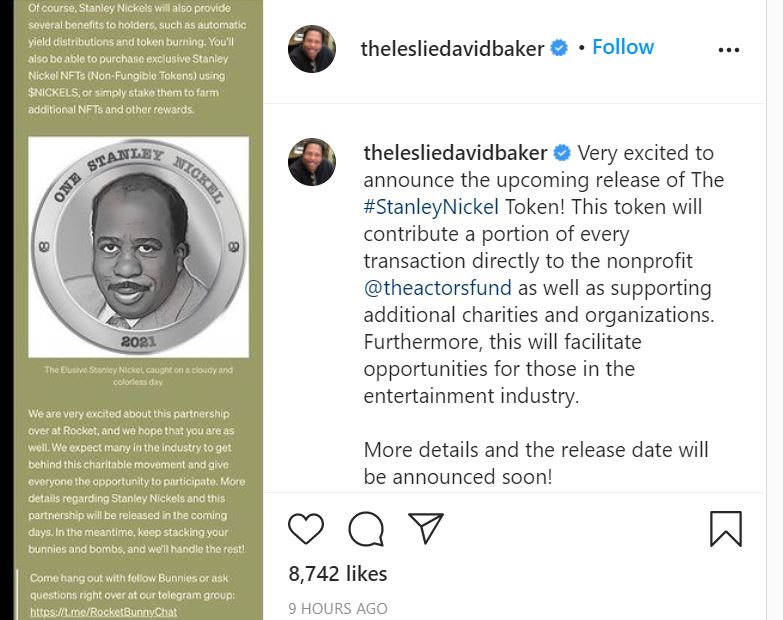 In 2021 when meme magic is stronger than ever Stanley Nickels became a reality. In the wee hours of April 8th 2021, Leslie David Baker announced via Instagram that The Stanley Nickel Token would be releasing "soon" on the Rocket Drop staking platform.
Stanley and his soon to be on-screen nephew Sardar Khan announced they decided to release a real version of the Stanley Nickel seen on The Office onto the blockchain.
It turned out the rumors were true and now one the greatest shows every produced will have a piece of its history immortalized on the immutable ledger known as the blockchain. We cannot wait to monitor the progress of this token.
Furthermore every transaction of Stanley Nickels contributes directly to the nonprofit organization known as The Actors Fund.
If you are interested in Stanley Nickels or $NICKELS, you'll have to go through the RocketBunney platform. For more information on RocketBunny, Stanley Nickel Tokens and the benefits of being involved in them, check out RocketBunny.io, or follow @RocketBunny2021 on Twitter.
Now that the first shoe has fallen, it seems likely that Schrute Bucks cryptocurrency will find a way to follow Stanley Nickels to a blockchain near you soon enough.
Let's just hope Stanley doesn't celebrate the official launch of the token by telling us to, "Shove it up our butt!".