The Champagne Has Run Out For These Titans Of Crypto Industry
These companies once seemed untouchable, but as the bears sink their teeth into the crypto markets recently, many companies have started to slash staff almost as fast as crypto prices themselves. Big names like Blockfi, Crypto.com, Coinbase, and Gemini have all announced layoffs in the past week or two, and we expect to see other companies make announcements in the upcoming weeks.
Blockfi was one of the first to announce significant layoffs, with reports coming out that the company was cutting a whopping 20% of its workforce. That means after a long period of hiring sprees, the company will now give pink slips to one out of every five employees. Yikes.
The Winklevoss twins of Gemini announced a 10% reduction in staff, which is reported to be the first layoffs in Gemini's eight-year history. Crypto.com, you know the guys that paid Matt Damon 100 million to try and convince us to use their platform by telling us to be bold (cringe), gave the axe to 260 employees as the downsizing continued.
To take it even further, Coinbase even started rescinding job offers that had already been accepted, which is pretty low when you think of the time and opportunity cost that is given up when pursuing and ultimately accepting a job from a massive firm.
Hiring freezes and layoffs given a changing environment are extremely unfortunate but often required.

But for Coinbase to send an email saying no offers will be rescinded as part of their hiring freeze and then rescind hundred of offers 2 weeks later is poor comms and planning. pic.twitter.com/n6s3cqYkko

— Tanay Jaipuria (@tanayj) June 5, 2022
This crypto winter is starting to go sub-zero.
And while layoffs are not uncommon in any industry during an industry-specific recession, these crypto companies had been expanding aggressively in the past year. So it's a bit of a shock to see them making these cuts now. Although not illogical when one's balance sheet is blood red on the asset side.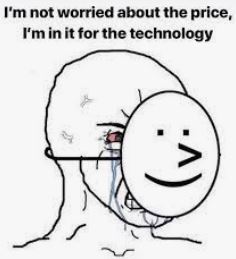 It's a tough time to be in crypto right now. Markets are down, investors are spooked, and companies are feeling the pinch. Remember all those companies and individuals who said, "they were in crypto for the tech"? It should be interesting to see their resolve over the next year or so. With many naysayers screaming this is the dot com bubble all over again, we think the crypto projects/companies with good fundamentals will still be left swinging in the later rounds of this bear market. Companies like Reserve.org, Ethereum stand out as well as the OG of course, Bitcoin.
What do you think about the crypto company layoffs? Do you think these companies were reckless when things are good and are now paying the price, or is this just normal business in an industry-specific recession?