Unless you've been living under a rock, you may have heard that Elon Musk recently had his bid to acquire Twitter accepted by the board. While there has been much speculation as to why he would want to own Twitter, many people are wondering what role crypto might play in the social media platform.
I made an offer https://t.co/VvreuPMeLu

— Elon Musk (@elonmusk) April 14, 2022
Some believe that Twitter could benefit from adopting a cryptocurrency as its official payment method, as it could help reduce transaction costs and increase user engagement. Paid advertising is one of Twitter's largest advertising streams, and a cryptocurrency gateway could facilitate this process by allowing advertisers to directly pay for their ads in crypto.
Others speculate Elon may integrate some form of tipping or upvoting of tweets using cryptocurrencies.
There are some concerns that adding crypto to Twitter could bring with it additional security risks, resulting in hacks and other malicious activity. Despite these potential downsides, however, many see the benefits of integrating crypto into one of the world's largest social media platforms as outweighing any potential risks.
Whatever the outcome may be, it's clear that Elon Musk's involvement with Twitter is sure to shake things up in the world of online communication. Whether you're a fan of his or not, only time will tell how his ownership of Twitter will impact the future of social media.
One Crypto To Rule Them All
We asked our readers on Twitter which cryptocurrency Elon should choose as the official cryptocurrency of Twitter, if he decides to go that route. Our question received a staggering 1389 votes and we think that's a pretty solid sample size.
To our surprise, the overwhelming favorite amongst our readers was the OG itself Bitcoin, followed Doge in second and Ether in a distant third.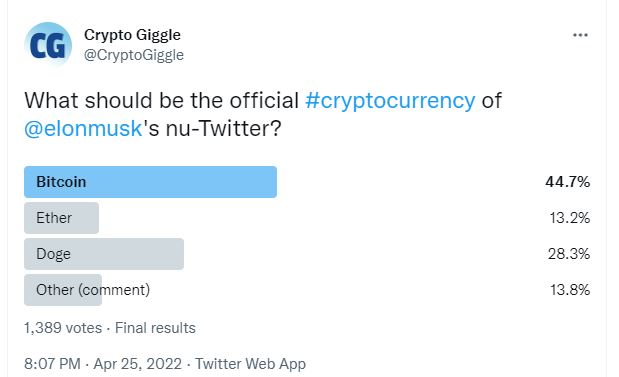 Additionally, we asked our readers to comment and suggest a cryptocurrency if their favorite was not listed as an option in the poll. The cryptocurrencies that got the most manual replies were BabyDoge and Shiba Inu.
So, what do you think? Which cryptocurrency should Elon Musk choose as the official cryptocurrency of Twitter? Do you agree with the results of our Poll? Let us know in the comments below!