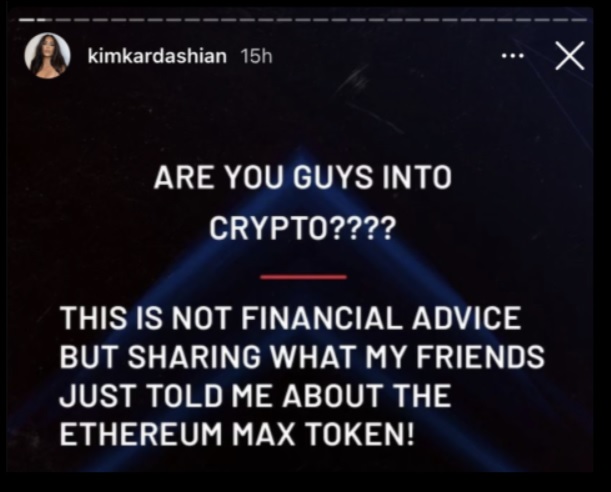 These scams are just blatantly obvious. Influencers should be required to say when an advertiser has paid them for a tweet and the FTC agrees. Kim Kardashian joined on the scam train by uploading this to her Instagram.
Kim Kardashian is assumed to have a net worth of 1.2 billion USD. You wouldn't expect someone with so much wealth and influence to accept the lowly proposition of some scam coin, but you would be wrong.
Kim Kardashian tweeted about Ethereum Max. And just like most of the scams promoted by celebrity, the price of Ethereum Max faded into obscurity….
Do these celebrities deserve to have so many followers is so many of them simply abuse their power to take advantage of fans? This scam is referred to as a "pump-and-dump" and believe it or not, this is not illegal in cryptocurrency.
The FTC and SEC have started to crack down on these influencer posts, that's why you see so many Tweets lately with the hash tag #AD. But many snuck in before the widespread regulations and still today others try and skirt the rules and play it off as organic interest.